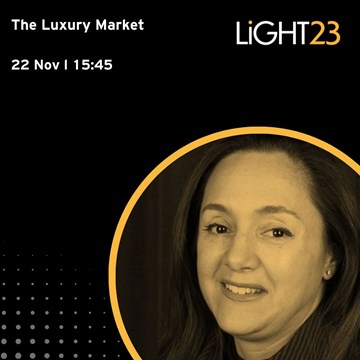 Sandra Brookes announced as part of the LiGHT 23 speaker programme
Posted by Lighting Design International on 12 Sep 2023
The LiGHT 23 [d]arc thoughts programme has officially been announced, and we are delighted that our Associate Sandra Brookes will be presenting to a captivating audience of designers.
Held over the 21 and 22 November at the Business Design Centre in Islington, London, LiGHT 23 is the UK's only dedicated exhibition for lighting specification.
Sandra will be delivering an engaging talk on 'Lighting the Luxury Market' on 22 November at 15:45, using some of our prestigious projects to showcase how LDI used lighting to evoke luxury within a space.
Creating an exceptional atmosphere for guests is key to getting them to stay and to entice them to come back again and again creating a continuous and successful business. Research has shown that the right lighting atmosphere can have an emotional effect on guests, influencing their feeling of satisfaction whilst affecting their whole experience by heightening the senses.
Make sure you've registered to attend LiGHT 23 to watch Sandra's talk live.
https://register.visitcloud.com/survey/13te39utvlq5f