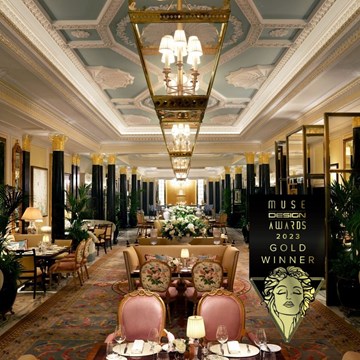 MUSE Design Awards Gold winner
Posted by Lighting Design International on 5 Sep 2023
The LDI team have been celebrating our latest award win, taking home Gold at the recent MUSE Design awards.
Our work at the Dorchester Hotel, one of the London's most iconic and luxurious hotels, was awarded Gold in the Lighting Design category. The project encompassed a lighting scheme for renovations to the famed hotel's Artist Bar, The Promenade, Vesper Bar, Guestrooms Circulation, the Hotel Lobby and external areas including the building façade, forecourt, garden and canopy.
The MUSE Design Awards are an international scheme dedicated to recognising excellent and original design work from across the globe. The expertise of the MUSE judges gives the awards their credibility, being senior-level, highly experienced individuals. Their fields of expertise include creative designers, architects, product designers and educators.
The judges score each entry based on a wide range of criteria such as creativity, innovation, sustainability and overall impression.
With a high level of competition, and significant number of entries from all over the world, the LDI team is thrilled to have their work highlighted through these prestigious awards.
We're delighted to add another accolade to our growing list of recognition, demonstrating the outstanding results we deliver each and every time for our clients.